I've had something preying on my mind for a while now. I've had it on my list-of-things-to-blog-about, but I start tapping away at the keyboard and then all I see is rage and disappointment. This entry will be no better, but at least I've now made peace with that.
I'll tell you what I haven't made peace with:
Gabriel & Dresden playing Skrillex
.
It kills me.
I don't know where to start.
For one, I'm not close-minded about dubstep. I actually quite enjoyed it for a while, you know, when it was good. I'm not just saying that either. I saw Skream
twice on his Melbourne debut in 2006
, and even managed to get a shitty photo with him when he was playing at Lounge.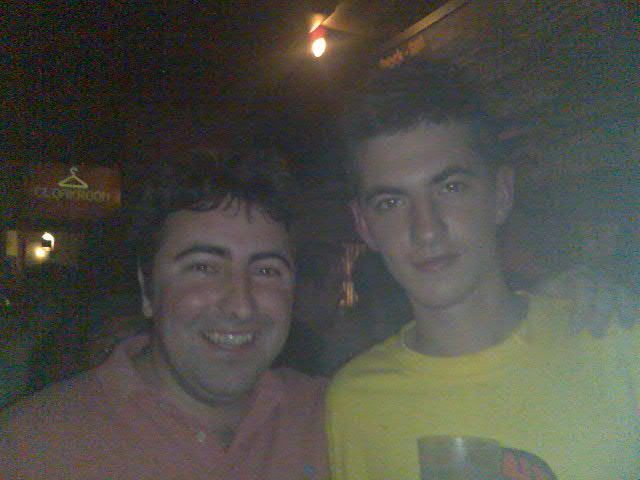 Wow, I had a lot of hair back then.
I followed the style for a while, until a few years later I saw Skream again at Hi-Fi,
where equipment troubles
stopped it from being a top night. My interest faded completely by 2010, where a gig at the Gaelic became a rewind-fest. Some
people loved it
and lapped it up. Me not so much.
My point being, unlike many people, I'm not a blind hater and gave dubstep a go.
Let's park that for now.
Now Gabriel & Dresden. My word, what an outstanding duo. I discovered them by accident. I was on a DJ mix site, and was searching for New Order live sets. To do this, I'd load up the page, press Ctrl + F and type in 'New Order' - cycling past all the mentions of
Blue Monday
and finally coming across this bizarre set list. It was
Gabriel & Dresden's 2005 San Diego set
. And among the last few tracks they played, was a remix of one of my favourite New Order tracks: '
Someone Like You
'.
I downloaded the set out of curiosity, and fast-forwarded towards the end, and the track sounded completely different. In a good way. In fact, I enjoyed it so much that I gave the whole set a listen. And really enjoyed it. Yep, even the Groove Is in the Heart remix.
I had to download more of their sets, and did. I probably went a bit crazy with how much I got into them actually. For the benefits of this blog post, I just did a count of how many sets I downloaded and listened to.
The answer it seems, is a fuckload.
And the love affair continued. I would listen to them over and over. I could tell you that their mash-up of Timo Maas's Shifter into their Someone Like You remix was a work of art, that I loved their 2nd Essential Mix just as much as their first one for playing Dirty South's 'It's Too Late' remix, and further, I could tell you that my favourite sets usually came from their Organized Nature radio show.
Sadly, they didn't make it to Australia after I had got into them. They broke up. These things happen. I always dreamed of course. That one day they'd put their differences aside and reform.
Meanwhile, my life continued. I would play their sets at recovery parties. So much so, that one of my good friends, perhaps in a slightly intoxicated state and listening to Jaytech (another brilliant progressive house DJ), famously announced to the group: "I know this is Gabriel & Dresden, but what is it?"
There were other amusing moments. I remember being at a gig with some of my best friends, seeing Way Out West for the first time at Tank, Sydney, and hearing them play
Mindcircus
. I lost my shit. I jumped up and down. I yelled and whooped and pointed out that Gabriel & Dresden had played this. I was wrong. (
They'd remixed it
). But that was beside the point. Anything that referenced these guys was gold. In my ears anyway.
You could not have scripted a bigger fuck-up. Needless to say I was shattered.
I got my life together, and moped my way through Singapore. I got to see Richard Durand, Markus Schulz and James Zabiela in those early months. But it wasn't Gabriel & Dresden.
Until I checked the Zouk line-up
around June
. I was in a quiet office back then. It did not stop me doing a jig and collectively lose my shit on social media. I was still new to the country, but sent out an impassioned email to my newly met acquaintances about the Second Coming.

Hey guys,


I know this could be, something I remember in my head…
http://www.youtube.com/watch?v=6ctGg_9PwE4
As someone that has been in touch with me you might be vaguely aware of my obsession with one of the greatest DJ/Production duos on the planet: Gabriel & Dresden. These guys are my number one, they broke up in 2008 and I never thought I'd ever get a chance to see them live. Here are some quick facts about how much I love them:


· Their first remix was of one of my favourite New Order tracks – I have a New Order track tattooed to my left arm
· I have 4GB of every set of theirs I have been able to download, this is about 70 hours of DJing
· I cried at the Armin Van Buuren party when he dropped Zocalo (http://www.youtube.com/watch?v=bIOjGNi5mYc) I later discovered this was produced with Gabriel & Dresden
· They reunited this year, and the day after I discovered I was moving to Singapore, they announced they were coming to Australia – it prompted this reaction from me on Facebook:
Yesterday's rejoicing about a move to Singapore has been soured by the news that the greatest production/DJ duo OF ALL TIME are playing in Sydney, on April 30th. I hate you, Gabriel & Dresden, I hate you with the power of a thousand suns.
· And I could go on…


But the stars have aligned and now they are playing at Zouk Singapore tomorrow evening.
Naturally I'm excited, naturally I'm attending.


I know barely any of you like "club" music, and aren't fond of late nights, but if you're keen to join a drooling fan boy having the time of his life you're more than welcome to join.
So it was set, a group of pals came along and I got to see DJ Gods in action.
Hearing a rejigged version of Mindcircus, and getting blasted with an ice-cannon while the vocalist belts out "falling" will always be etched in my memory as one of the greatest moments in my history of ever. But then something happened.
They played a dubstep track.
It completely floored me. I didn't see this coming. Why would they stoop to this level? Why? After mastering pop-progressive house, why, why would you go and do something like that?
I didn't last till the end. Their tweet:
we played 40 minutes of our classics at the end,
only rubbed salt into an irreparable wound.
Some of you reading this would have already seen the writing on the wall a long time ago. They played a Groove is in the Heart remix? Dirty South you say? What the fuck did you think these flavour-of-the-month specialists were going to play when the dubstep party came to town?
So that's why it's my toughest musical break-up. They haven't changed. They were always playing what's popular to a degree. But I draw the line, however superficial that may be, at playing that maligned genre.
As a famous anonymous DJ said:
I may be a cunt,
But I'm not a cunt that plays dubstep.
Rest in peace Gabriel & Dresden.